Welcome to the European Arts Guild for Medicine and Culture.
The orientation towards a holistic view of the human being is our concern, motivation and desire.
We focus on the integration of relationships between doctor and patient, therapist and patient, and between creative artist and observer. These topics we want to highlight, inform about, further develop and encourage a public discussion.
The human being as an organism, as a creator of culture, can only be in its entirety, if there is an integration of culture. That means:                                 There is no culture without the human organism and there is no human organism without its culture. Therefore, without culture, there cannot be a healthy human organism. (Dr. Adak Pirmorady, Chairwoman of the Board)
Many questions arise in this field of topics: What does being "healthy" mean, where does health begin and where does it end? What responsibilities can we as doctors or therapists assume for our patients and for ourselves?
We would like to introduce artists, scientists, doctors and therapists who address these matters today. We want to invite you to experience and acquire knowledge of the philosophy and ideas of great scientists, artists, doctors and philosophers of the past, taking them into a personal context. We are looking forward to having you with us on this journey to revive holistic and humanistic perspectives.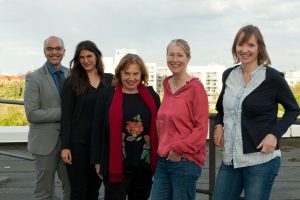 Prof. Dr. Dr. Jalid Sehouli, Dr. Adak Pirmorady M.A., Susanne Diehm M.A., Katrin Laville, Dr. Nike Seeck.   (from left to right)